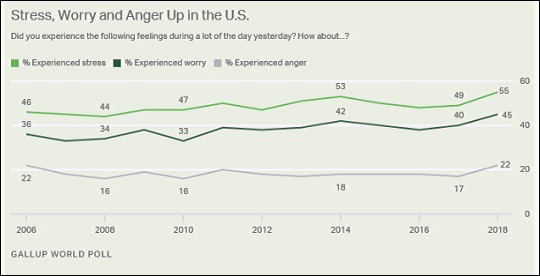 By Pam Martens and Russ Martens: April 26, 2019 ~
The Gallup polling organization was out with another new study yesterday that shows America is dangerously heading in the wrong direction. Gallup's latest poll found that Americans were more likely to be stressed and worried than much of the world. The 55 percent of Americans who said they had experienced stress the prior day was one of the highest rates out of the 143 countries studied. The global average was 35 percent.
With a 55 percent stress rate, the U.S. now ranks even with Albania, Iran and Sri Lanka. Only Greece, the Philippines and Tanzania rank higher at 59, 58 and 57 percent respectively.
The highest stress levels were reported among Americans aged 30 to 49, where 65 percent reported experiencing stress the prior day. The figure was just one percent lower for Americans aged 15 to 29, where 64 percent reported experiencing stress the prior day.
The new Gallup poll also measured worry and anger. Nearly half of Americans (45 percent) indicated that they felt worried a lot while 22 percent said they felt anger a lot. All three measurements (stress, worry and anger) had increased measurably since the prior poll. (See the full report here.)
Stagnant wages and poor job opportunities are likely weighing heavily on the stress, worry and anger of Americans. Despite what you hear about the historically low 3.8 percent unemployment rate, there's a "Big Lie" surrounding that number according to Jim Clifton, Chairman and CEO of Gallup. Back in 2015, when the unemployment rate was 5.6 percent, Clifton created quite a stir when he appeared on CNBC and said he might "suddenly disappear" from challenging how the official unemployment rate is calculated. Clifton's "Big Lie" opinion piece posted on the Gallup website at the time included this nugget:
"Say you're an out-of-work engineer or healthcare worker or construction worker or retail manager: If you perform a minimum of one hour of work in a week and are paid at least $20 — maybe someone pays you to mow their lawn — you're not officially counted as unemployed…"
In 2017, Wall Street On Parade drilled deeper into the government's calculation of what constitutes being "employed" on a job and found that you can actually receive no pay whatsoever in at least two situations and still be counted as gainfully employed. We quoted the following from the Federal government's own website for the Bureau of Labor Statistics:
"Garrett is 16 years old, and he has no job from which he receives any pay or profit. However, Garrett does help with the regular chores around his parents' farm and spends about 20 hours each week doing so.
"Lisa spends most of her time taking care of her home and children, but she helps in her husband's computer software business all day Friday and Saturday.
"Both Garrett and Lisa are considered employed. They fall into a group called unpaid family workers, which includes any person who worked without pay for 15 hours or more per week in a business or farm operated by a family member with whom they live. Unpaid family workers comprise a small proportion of total employment. Most of the employed are either wage and salary workers (paid employees) or self-employed (working in their own business, profession, or farm)."
Last month, Gallup polling produced more bad news for the United States. The U.S had dropped from a 48 percent global approval rating during President Obama's last year in office to 30 percent in Trump's first year. For Trump's second year in office, the approval rating only edged up by one notch to 31 percent.
The poll showed that "Regionally, the image of U.S. leadership fared worst in Europe, where approval remained low and stable, dropping one percentage point from the previous year to 24%." The current 24 percent approval rating compares to a 44 percent approval rating in Europe in Obama's last year in office.
The overall approval rating in Europe of 24 percent stood in stark contrast to distrust of the U.S. in some individual countries. Approval of the U.S. in Norway was a stunningly low 12 percent; Sweden 13 percent; Austria and Portugal 14 percent; Belgium and Switzerland 16 percent; and Germany 17 percent.
The U.S. is also sinking further into corrupt nation status. In January of this year, Transparency International released a study which showed that the U.S. is no longer in the top 10, or even the top 20, of least corrupt nations. According to its Corruption Perceptions Index for 2018, the United States fell four points deeper into corruption than the prior year. The U.S. now ranks below Luxembourg, Estonia and France, coming in at number 22 on the chart. In the Americas region, only Canada came in among the top 10 least corrupt nations, earning a number 9 ranking. (View the full list here.)
Zoe Reiter, Acting Representative to the U.S. at Transparency International offered this commentary about the report:
"A four point drop in the CPI score is a red flag and comes at a time when the US is experiencing threats to its system of checks and balances, as well as an erosion of ethical norms at the highest levels of power. If this trend continues, it would indicate a serious corruption problem in a country that has taken a lead on the issue globally. This is a bipartisan issue that requires a bipartisan solution."
Burying one's head in the sand is no longer an option for Americans who love their country – as has been said, democracy is not a spectator sport.