By Pam Martens and Russ Martens: June 6, 2018 ~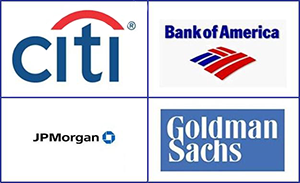 Several early warning signs emerged in the stock market yesterday. The tech-heavy Nasdaq Composite Index closed at a record high but every major Wall Street bank with large exposures to derivatives closed in the red yesterday. Leading the decliners were Deutsche Bank with a loss of 1.61 percent; Morgan Stanley closed down 1.49 percent; Bank of America lost 0.95 percent while Citigroup, Goldman Sachs and JPMorgan Chase were in the red by less than one percent.
But the red ink didn't stop there. Five of the seven U.S. insurance companies that were singled out in the 2017 Financial Stability Report from the U.S. Treasury's Office of Financial Research also closed in the red yesterday. The five insurers showing losses of less than one percent were Ameriprise Financial, Hartford Financial Services Group, Lincoln National Corp., Prudential Financial and Voya Financial. Two other insurers with hefty derivative exposure to Wall Street who eked out a few pennies gain yesterday were AIG and MetLife.
The 2017 Financial Stability Report included this cautionary text:
"…some of the largest insurance companies have extensive financial connections to U.S. G-SIBs [Global Systemically Important Banks] through derivatives. For some insurers, evaluating these connections using public filings is difficult. Insurance holding companies report their total derivatives contracts in consolidated Generally Accepted Accounting Principles (GAAP) filings. Insurers are required to report more extensive details on the derivatives contracts of their insurance company subsidiaries in statutory filings, including data on individual counterparties and derivative contract type. But derivatives can also be held in other affiliates not subject to these statutory disclosures, resulting in substantially less information about some affiliates' derivatives than required in insurers' statutory filings."
The scariest black holes according to the report are occurring at MetLife, Prudential Financial and, believe it or not, AIG – the insurer that blew itself up with Wall Street derivatives in 2008 and required a $185 billion taxpayer backstop.
The 2017 Financial Stability Report under the Trump administration's Treasury Department has scrubbed some of the granular details that appeared in the 2016 Financial Stability Report. That report should have sent the U.S. Senate Banking and House Financial Services Committees into emergency session. What we've gotten instead under the Trump administration is deregulation of Wall Street at a time of unprecedented peril.
The 2016 Financial Stability Report noted the following:
"At the end of 2015, U.S. life insurers' derivatives exposure, as reported in statutory filings, totaled $2 trillion in notional value. This $2 trillion does not include derivative contracts held in affiliated reinsurers, non-insurance affiliates, and parent companies that do not have to file statutory statements. Details on these entities' derivatives positions are not publicly available."
The report further indicates that a dangerous interconnectedness with a high potential for contagion has grown between U.S. life insurers and Wall Street banks:
"According to statutory data on insurance company legal entities, nine large U.S. and European banks are counterparties to about 60 percent of U.S. life insurers' $2 trillion in notional derivatives. These data show that despite central clearing, derivatives interconnectedness between the U.S. life insurance industry and banks remains substantial."
As the articles below indicate, it's going to be impossible for regulators and members of Congress to claim — as they did after the 2008 financial collapse — that nobody could have seen this coming.
Related Articles:
Alarm Bells Sounded on Wall Street's Derivatives 
Bailed Out Citigroup Is Going Full Throttle into Derivatives that Blew Up AIG
Citigroup Has More Derivatives than 4,701 U.S. Banks Combined; After Blowing Itself Up With Derivatives in 2008
Two of the Biggest Bailed Out Derivative Banks, Citi and Merrill, Get Fined for Breaking Derivatives Rules
Shhh! Don't Tell this Bank Regulator We've Got a Derivatives Problem
The Contagion Deutsche Bank Is Spreading Is All About Derivatives
U.S. Government Is Now a Major Counterparty to Wall Street Derivatives
Who is Morgan Stanley and Why Its $31 Trillion in Derivatives Should Concern You
Financial System of U.S. Rests on Health of Just Five Mega Banks
Putting John Paulson on AIG's Board Is an Insult to Every Law-Abiding Citizen