By Pam Martens and Russ Martens: June 15, 2018 ~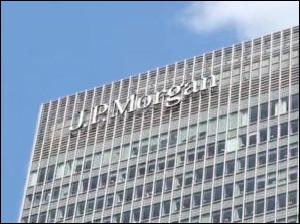 On Monday Reuters reported that "a judge in Mexico has issued an arrest warrant for the country head of U.S. investment bank JPMorgan for alleged fraud…." Details about the arrest warrant were provided the same day in a lawsuit filed in the Federal District Court for the Southern District of New York. The lawsuit explained that "…a prosecutor has conducted a criminal investigation into fraud by J.P. Morgan. Based on the preliminary evidence collected, the prosecutor recently (in June 2018) requested that a judge detain Eduardo Cepeda, the chairman of the board and chief executive officer of Defendant's Mexican unit, and former J.P. Morgan managing director Miguel Barbosa. Upon review of the evidence presented by the prosecutor, a criminal court judge has found the elements of felony fraud in the amount of $100 million, and issued a detention order for Eduardo Cepeda and Miguel Barbosa."
That was this past Monday. By Wednesday, Reuters was reporting the following: "A judge in Mexico canceled an arrest warrant for the country head of U.S. investment bank JPMorgan Chase & Co and another employee, the bank said on Wednesday, just days after it was issued."
Exactly how does one get a judge to rescind an arrest warrant after an alleged finding of "felony fraud in the amount of $100 million"? We'll get to the details of the alleged fraud in a moment, but first a bit of historical perspective on JPMorgan Chase's decade-long crime spree.
Peculiar things happen a lot where JPMorgan Chase is involved. Crimes are routinely committed, tens of billions of dollars are paid in fines, the bank admits to three felony counts in a two year period, it gambles in exotic derivatives with its bank depositors' money and loses $6.2 billion – and yet, no executive ever goes to jail and CEO Jamie Dimon not only keeps his job but keeps getting big pay raises, moving him now onto the Forbes billionaire list.
Two of the felony counts against JPMorgan Chase came in 2014 for its involvement in the Bernie Madoff Ponzi scheme. The third felony count came in 2015 for its involvement in rigging foreign exchange markets. In 2013 JPMorgan Chase paid a $13 billion settlement with the Justice Department and Federal and State regulators for its role in selling investors subprime mortgage products as worthy investments when the bank had good reason to believe they would blow up.
The sheer volume of JPMorgan Chase's crime spree led two trial lawyers, Helen Davis Chaitman and Lance Gotthoffer, to write a book on the bank, comparing it to the Gambino crime family. In addition to the above settlements, the lawyers outlined a broad pattern of nefarious behavior at the bank:
"In April 2011, JPMC agreed to pay $35 million to settle claims that it overcharged members of the military service on their mortgages in violation of the Service Members Civil Relief Act and the Housing and Economic Recovery Act of 2008.
"In March 2012, JPMC paid the government $659 million to settle charges that it charged veterans hidden fees in mortgage refinancing transactions.
"In October 2012, JPMC paid $1.2 billion to settle claims that it, along with other banks, conspired to set the price of credit and debit card interchange fees…
"In September 2013, JPMC agreed to pay $80 million in fines and $309 million in refunds to customers whom the bank billed for credit monitoring services that the bank never provided.
"On December 13, 2013, JPMC agreed to pay 79.9 million Euros to settle claims of the European Commission relating to illegal rigging of benchmark interest rates.
"In February 2012, JPMC agreed to pay $110 million to settle claims that it overcharged customers for overdraft fees.
"In November 2012, JPMC paid $296,900,000 to the SEC to settle claims that it misstated information about the delinquency status of its mortgage portfolio.
"In July 2013, JPMC paid $410 million to the Federal Energy Regulatory Commission to settle claims of bidding manipulation of California and Midwest electricity markets.
"In December 2013, JPMC paid $22.1 million to settle claims that the bank imposed expensive and unnecessary flood insurance on homeowners whose mortgages the bank serviced."
Embedded in the chronology above is the salient fact that, somehow, no executive ever goes to jail at JPMorgan Chase. Consider that as you read the details of the new lawsuit filed in Federal Court on Monday:
"This action is brought to seek redress for Defendant J.P. Morgan's brazen and malicious fraudulent inducement of Plaintiffs, by which Sacal [Elias Sacal Cababie] a Mexican condominium developer, and BVG World, his operating company, transferred control of – including the right to sell – hundreds of millions of dollars of valuable real estate assets to J.P. Morgan on or about September 24, 2012, based on the promise that J.P. Morgan would sell the properties. The sales would permit Plaintiffs to pay off a $99 million loan from J.P. Morgan and put the excess proceeds – which the parties agreed in 2012 would be at least $221 million – to use in other business ventures. However, as Plaintiffs have come to learn – and as J.P. Morgan representatives have cavalierly admitted – J.P. Morgan never intended to fulfill its promise.  Instead, it used the promise to induce Plaintiffs to hand J.P. Morgan control of a trust that contains several properties in Mexico so that J.P. Morgan could, in bad faith, sit on the properties in perpetuity and thus block Plaintiffs from paying back their loan to J.P. Morgan or investing in other projects, all the while accruing substantial interest and fees in favor of J.P. Morgan."
The lawsuit also alleges the following:
"Rather than act as a good steward and timely usher the Properties toward sale, as promised, J.P. Morgan, as trustee, has instead failed to fulfill its obligations over the past five years.
"In doing so, J.P. Morgan has revealed that it never intended to fulfill its promise to sell the Properties 'as soon as possible.' To the contrary, J.P. Morgan plotted to gain control over the Properties in order to prevent the sales from happening. Indeed, in or about January 2013, J.P. Morgan's Jorge Sosa (a managing director) and Melanie Foster (an executive director) told Sacal in J.P. Morgan's New York offices that J.P. Morgan intended to wait at least five years from the execution of the Trust Agreement before seeking to sell the Properties. Pursuant to Trust Agreement § 8.01(f), after five years – i.e., starting September 24, 2017 – J.P. Morgan would have an absolutely unfettered right to sell the Properties at any time, without restriction or interference by BVG World, whereas within the five years, BVG World and the J.P. Morgan would 'determine jointly any sales procedure,' pursuant to § 8.01(e).
"By waiting out the five years, without even attempting to sell the Properties, J.P. Morgan could thus, theoretically, continue to keep BVG World on the hook for its debt in perpetuity and accrue interest, as J.P. Morgan would retain in its sole control the ability to sell – or withhold from sale – the Properties that secured the debt."
The name of the big real estate firm Cushman & Wakefield has also been dragged into the scandal. The complaint reads:
"As part of its fraudulent scheme, in or about January 2012, J.P. Morgan retained real estate brokerage Cushman & Wakefield and instructed it to make a business plan for the sale of the Properties. J.P. Morgan instructed Cushman & Wakefield to make a plan to lend credence to their promise to Sacal and BVG that if they transferred control of the Properties to J.P. Morgan, then J.P. Morgan would cause them to be sold. In or about April 2012, Cushman & Wakefield provided Plaintiffs and J.P. Morgan with minimum sales prices for the Properties totaling $327,788,805.25, with minimum sales prices for each property summarized as follows: a. Bajamar: $164,574,759.50; b. Peninsula: $25,120,413.75; c. Insurgentes: $36,500,000; d. Grand Island: $82,508,772; and e. La Cima: $19,084,860. "
The case is Cababie et al v. J.P. Morgan Chase Bank, N.A. (1:18-cv-05249-RWS). Cababie is represented by the New York law office of Meister Seelig & Fein LLP. JPMorgan Chase's lawyers have not yet filed their names on the docket. The Judge assigned to the case is Robert W. Sweet.