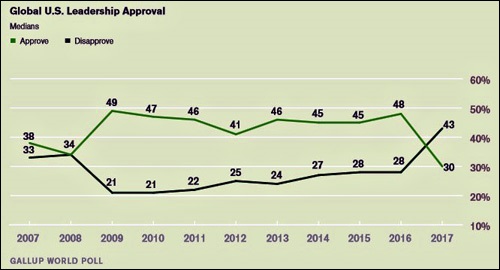 By Pam Martens and Russ Martens: January 19, 2018
Since the inauguration of Donald Trump on January 20, 2017, the stock market has performed as if it is operating in an alternative universe, regularly setting new record highs despite unprecedented chaos coming from the White House. Now, a new Gallup poll is calling into question how long the divergence between the market's view of Trump and the world view of Trump can continue.
A new Gallup poll released yesterday puts global approval of US leadership at just 30%, behind China at 31% and Russia at 27%. Germany has moved into the top slot in the world with a leadership approval rating of 41%.
One of the most striking findings from the poll is how far America's leadership approval has fallen among our closest neighbors. According to Gallup, Canada led declines with U.S. leadership approval sinking 40 points from 60% in 2016 to 20% in 2017. America's neighbor to the south, Mexico, registered a record low approval rating of U.S. leadership, falling 28 points from 44% in 2016 to 16% in 2017, eight points lower than the previous decade low of 24% in 2008.
Approval rankings in Europe were only slightly less abysmal. Europe now registers a 25% approval and 56% disapproval. The poll notes that these ratings were actually worse during the last year of the George W. Bush administration. (The last year of the Bush administration was 2008, a time when Wall Street was causing cataclysmic financial disasters around the globe.)
Showing a broad consensus across Europe, U.S. leadership approval ratings declined significantly in 21 out of the 28 members of the European Union. The poll notes that "NATO member states led the fall in approval ratings across Europe and the world, with Portugal posting a 51-point decline in approval ratings, followed by a loss of 44 points in Belgium and a 42-point drop in Norway."
Four of the five countries with the world's lowest approval ratings of U.S. leadership are in Europe; Portugal (12%), Sweden (11%) join Russia and Iceland (both at 8% approval).
Additional regional highlights from the poll include the following:
Approval of U.S. leadership dropped to new record lows in Mexico, Haiti, Peru, Chile, Panama, Colombia, Nicaragua, Costa Rica and Guatemala.
Residents of Canada and Mexico are now more likely to approve of China's leadership than U.S. leadership.
Argentines, Chileans and Uruguayans are the least likely among 21 populations in the Americas to approve of U.S. leadership, with 13% in each country approving.
The poll was conducted between March and November 2017 and released yesterday. Its results were based on face-to-face and telephone interviews with approximately 1,000 adults, aged 15 and older, in each country or area.
Europe's handwringing over the Trump presidency began the very day after his win. On November 9, 2017, Michael Knigge, writing on the digital front page of Germany's Deutsche Welle, critiqued Trump's victory as follows:
"Trump's success is a victory for an inflammatory, partly dehumanizing, vulgar populism. It is a sharp slap in the face to the establishment and the political elite in the United States and its representative, Hillary Clinton. As an opponent, Clinton was almost equally as unpopular as Trump. Through her own carelessness, her use of a private email server provided her critics with the ammunition they needed for their constant attacks. But Clinton's unpopularity alone does not explain Trump's dramatic election victory.
"Trump's victory brings to light a long-term and deep dissatisfaction — if not actual hate — present in large sections of the populace. It is a hatred of the status quo, of globalization and the political system in Washington. In numerous polls, many Americans have repeatedly stated that they believe their standard of living and future prospects are worse than they were in their parents' generation. Trump was the right vehicle and outlet to harness such views, which were especially held by the white working class. And Hillary Clinton was the right opponent."
On May 19, 2017, two weeks before President Donald Trump announced the U.S. withdrawal from the Paris Climate Accord, Der Spiegel, one of the most influential news magazines in Europe, published a breathtaking assessment of the sitting President of the United States. Written by its Executive Editor, Klaus Brinkbäumer, the editorial read in part:
"Donald Trump has transformed the United States into a laughing stock and he is a danger to the world. He must be removed from the White House before things get even worse…
"Donald Trump is not fit to be president of the United States. He does not possess the requisite intellect and does not understand the significance of the office he holds nor the tasks associated with it. He doesn't read. He doesn't bother to peruse important files and intelligence reports and knows little about the issues that he has identified as his priorities. His decisions are capricious and they are delivered in the form of tyrannical decrees…
"Crises, including those in Syria and Libya, are escalating, but no longer being discussed. And who should they be discussed with? Phone calls and emails to the U.S. State Department go unanswered. Nothing is regulated, nothing is stable and the trans-Atlantic relationship hardly exists anymore…"
The hard assessments made early on in Europe about the Trump presidency are now being conveyed by U.S. television anchors on a nightly basis. Trump's approval ratings among U.S. voters are also at a record low.
The question of how a billionaire real estate mogul who had filed business bankruptcies six times; had zero military or government experience; had a string of women accusing him of sexual assaults; refused to release his tax returns; was caught on audio tape stating that he could grab women by the "p***y" because he was a celebrity – rose to the highest office in the United States is a matter that must be investigated with all the tenacity of a skilled surgeon's scalpel seeking to eradicate a malignant tumor from a failing patient.
Yesterday, a new leg of the probe into Russia's involvement in the 2016 election came to light through McClatchy newspapers. Reporters Peter Stone and Greg Gordon reported that the "FBI is investigating whether a top Russian banker with ties to the Kremlin illegally funneled money to the National Rifle Association to help Donald Trump win the presidency."
The man in the crosshairs is Alexander Torshin, the deputy governor of Russia's central bank, who has close relationships with Russian President Vladimir Putin and the NRA, according to McClatchy's sources.
Donald Trump needs to stop repeating the assertion that "there was no collusion" with Russia and his lawyer needs to stop predicting that the criminal investigation by Special Counsel Robert Mueller is drawing to a close.
The year 2017 was the year from hell for Americans and patriotic Americans who love this country and want a better world for their children need to stand up and demand a full scale investigation of Trump's rise to power that comprehensively pulls back the curtain on corrupt money in politics in America.