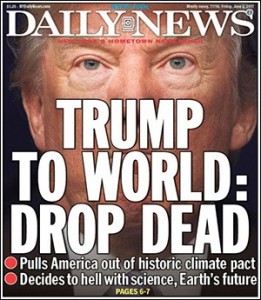 By Pam Martens and Russ Martens: June 2, 2017
The unthinkable is happening so fast to America that there is a serious, growing threat that U.S. citizens are becoming desensitized to the chilling reality of our nation's precipitous decline in respect and credibility around the world. The reflex action is to either deny it's happening or pull the covers over one's head.
Two weeks before President Donald Trump announced the U.S. withdrawal from the Paris Climate Accord, Der Spiegel, one of the most influential and widely read news magazines in Europe, published a breathtaking assessment of the sitting President of the United States. Written by its Executive Editor, Klaus Brinkbäumer, the editorial was brutal and came from a publication known for its investigative acumen. Brinkbäumer made the following observations:
"Donald Trump has transformed the United States into a laughing stock and he is a danger to the world. He must be removed from the White House before things get even worse…
"Donald Trump is not fit to be president of the United States. He does not possess the requisite intellect and does not understand the significance of the office he holds nor the tasks associated with it. He doesn't read. He doesn't bother to peruse important files and intelligence reports and knows little about the issues that he has identified as his priorities. His decisions are capricious and they are delivered in the form of tyrannical decrees…
"Crises, including those in Syria and Libya, are escalating, but no longer being discussed. And who should they be discussed with? Phone calls and emails to the U.S. State Department go unanswered. Nothing is regulated, nothing is stable and the trans-Atlantic relationship hardly exists anymore…"
You may not agree with the harshness of this assessment, but it matters that a widely circulated and respected news magazine holds this view of America's sitting President. Days later, the Chancellor of Germany, Angela Merkel, reinforced the growing isolation of America in a speech with the comment that after spending a few days with President Trump, Europe "really must take our fate into our own hands."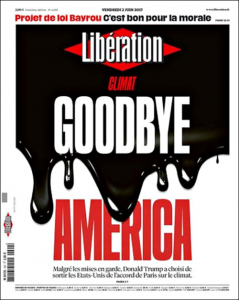 It's also critical to consider the backdrop under which the President of the United States withdrew from the Paris Climate Accord yesterday – invoking more ridicule on the front pages of foreign and domestic newspapers and rebukes from the heads of some of the most famous corporate brands in America.
President Trump is tied up in court for a widely condemned travel ban directed at Muslims. His administration is under investigation by Senate and House Intelligence Committees, the FBI, a Special Counsel at the Justice Department and the Government Accountability Office for potentially illegal interactions with Russians.
The President has refused to place his business interests in a blind trust and has thumbed his nose at public sensibilities regarding nepotism by bringing his daughter and son-in-law into his administration.
While his campaign was under an investigation headed by FBI Director James Comey, the President fired Comey and then disparaged him to the Russian Foreign Minister and Russian Ambassador as a "nut job" while simultaneously providing the pair with classified information.
The reaction to all of this by Trump supporters is to dismiss it as a bogus propaganda war by disgruntled Hillary supporters. But those charges certainly can't apply to Wall Street On Parade which throughout 2016 provided our readers with evidence that both Clinton and Trump were deeply flawed candidates and that America deserved much better.
Now Trump has earned the animosity of some of the most important brand names in America with Tweets going out against his climate accord action yesterday from the likes of Elon Musk, CEO of Tesla, Apple CEO Tim Cook, Disney CEO Bob Iger, General Electric CEO Jeff Immelt and dozens of others.
If the world views America as a loose cannon, our nation could experience not only diplomatic backlash but there could be boycotts of our biggest brand names in foreign markets, thus hurting our critical need to expand our export markets and boost job growth at home.
This is a time for all Americans to put aside politics and come to grips with the hard cold reality of the situation in the White House.