By Pam Martens and Russ Martens: November 2, 2016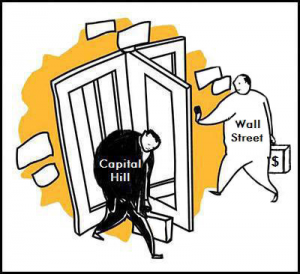 It's more than a coincidence that at a time when the two leading candidates for the highest office in the United States are considered untrustworthy by tens of millions of their fellow citizens, the industry that has perpetually attempted to stack the political deck in Washington has also lost the trust of a majority of Americans.
This feels to many like having Wall Street's one percent at the rudder for the past two decades has finally steered the ship of state into a toxic sink hole that is devouring the credibility of the United States at home and abroad.
Wall Street's image has fallen so low that the Federal Reserve Bank of New York is holding an annual "Reforming Culture and Behavior in the Financial Services Industry" conference. That New York Fed President Bill Dudley is heading up this conference shows just how hopelessly lost Wall Street really is. (Dudley is the guy who didn't see a problem with his wife collecting $190,000 annually from JPMorgan Chase while Dudley supervised the bank. The New York Fed is also the place that allowed JPMorgan CEO Jamie Dimon to continue to sit on its Board as JPMorgan was being investigated by the Fed for losing over $6 billion in depositors' money in the London Whale derivatives fiasco. And Dudley is also the guy that allowed the firing of one of his own bank examiners, Carmen Segarra, after she filed a negative examination of Goldman Sachs. Segarra filed a Federal lawsuit charging that she was fired in retaliation for refusing to change her examination report. The portrait of the New York Fed as a crony regulator under Dudley was dramatically broadened in 2014 when ProPublica and public radio's This American Life released internal tape recordings Segarra had made inside the New York Fed showing a lap dog regulator cowering before a powerful Wall Street firm.)
Dudley even had the audacity to open this year's culture conference with a speech on his own recommendations for reform. Stating the obvious, Dudley called the evidence "pervasive" that "bad conduct" has "eroded the industry's trustworthiness." (Given that two of the largest U.S. banks, Citigroup and JPMorgan Chase, are admitted felons for the first time in their century old existence and JPMorgan is being compared to the Gambino crime family in a book authored by two trial attorneys, Dudley might be accused of understating his case.)
In his speech, Dudley went on to express concerns that: "The time spent handling a legal crisis is time not spent on more productive pursuits. Moreover, I worry that, in the long term, an industry that develops a reputation for dubious ethics will not attract the best talent."
As with most things, Dudley has his lens fogged. The time the big Wall Street banks spend handling a corruption scandal eats into the time they can spend devising products to loot the public in some new surreptitious way. As Senator Bernie Sanders correctly explained as he stumped around the country during the primaries, the business model of Wall Street is fraud. The less time Wall Street has to perfect that business model, the better.
As for its "reputation for dubious ethics" negatively impacting its ability to hire "the best talent," if your business model is fraud you are likely attracting a very compatible personnel roster. As we previously reported, "JPMorgan Rushed to Hire Trader Who Suggested on His Resume That He Knew How to Game Electric Markets."
Congress is to blame for all of this by allowing Wall Street to run a continuity government in Washington. In 2009, after the greatest Wall Street crash since the Great Depression, Senator Dick Durbin flatly said this about Wall Street's relationship with Washington: "They run the place." Thanks to WikiLeaks, we no longer have to speculate on just how true that statement really is.
From the emails released by WikiLeaks, we now know it was an executive of the collapsing mega bank, Citigroup, who in 2008 was calling the shots on cabinet positions and agency deputies in President Obama's first term. In an email dated Saturday, October 18, 2008, Michael Froman, using his official Citigroup email address of fromanm@citi.com, sent the following email to Obama's advisors:
"Review Teams
"Attached is the latest version of the Agency Review teams. It is a closely held document, so please treat it with the same sensitivity as ours. If you all could take a quick look at the lists for the agencies in your area, that would be helpful. I think the hope is that, while there are no guarantees, some of the people on these lists might make their way into the agencies ultimately. Our role, therefore, is to check whether there is much overlap between the names here and the names were seeing/generating for sub-cabinet positions in each agency. There doesn't need to be total overlap, but if there is a total disconnect, it would probably be better to rectify that now vs. later.
"I hate to ask, since I just send you another long spreadsheet to check, but if you could do this tomorrow and get back to Lisa (copied here) and myself, that would be great. Thanks."
Froman had previously served in the Clinton administration and moved to Citigroup along with Clinton's Treasury Secretary, Robert Rubin. When Froman sent his email, Citigroup was in the midst of receiving what would become the largest taxpayer bailout in U.S. history.
Other emails released by WikiLeaks show that President Obama, using the email address of bobama@ameritech.net, was communicating directly with Froman at his Citigroup email address in 2008.  Froman was feeding Obama lists of recommended appointments to his cabinet. In an email from Froman dated October 6, 2008, Hillary Clinton shows up on Froman's list for Secretary of State or head of the U.S. Department of  Health and Human Services (HHS). In a separate list attached to the email, Eric Holder was recommended for U.S. Attorney General at the Department of Justice or as White House Counsel. (See the email and the attachments here.)  Less than a month after Obama's election as President on November 4, 2008, Obama had nominated Clinton to be his Secretary of State and Holder as his Attorney General. Clinton went on while Secretary of State to transmit Top Secret documents over a private computer server she had rigged up in the basement of her home. Holder failed to prosecute any of Wall Street's top executives for the crimes that led to the greatest financial crash since the Great Depression. And, according to the PBS Frontline program, "There were no subpoenas, no document reviews, no wiretaps" being used by Holder's Justice Department to hold Wall Street accountable for the crash.
Then there is the matter of Obama himself. His own Dodd-Frank financial reform legislation enacted in 2010 mandated that the President appoint, subject to Senate confirmation, a Vice Chairman for Supervision at the Federal Reserve to police Wall Street on behalf of the Fed.
Section 1108 of Dodd-Frank states: "The Vice Chairman for Supervision shall develop policy recommendations for the Board regarding supervision and regulation of depository institution holding companies and other financial firms supervised by the Board, and shall oversee the supervision and regulation of such firms." Six years later, President Obama has failed to appoint this individual, effectively thumbing his nose at his own legislation to the great satisfaction of Wall Street.