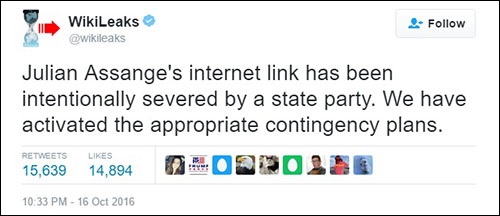 By Pam Martens  and Russ Martens: October 17, 2016
According to the above statement from the WikiLeaks Twitter account, a state party has intentionally cut off access to the Internet for Julian Assange, the founder and Editor-in-Chief of WikiLeaks. This happened after the ninth consecutive day of releases of emails from the hacked account of John Podesta, the chair of Hillary Clinton's presidential campaign committee. It also comes on the heels of a potentially serious campaign finance problem for the Hillary for America committee, the primary fundraising vehicle for Clinton, according to an email released by WikiLeaks just yesterday. This would be the second time in less than six months that the Clinton campaign's finances have come under scrutiny.
In April and May of this year, Senator Bernie Sanders' campaign charged the Clinton campaign with serious violations of campaign finance law, including "looting funds meant for the state parties to skirt fundraising limits on her presidential campaign," and exploiting "the rules in ways that let her high-dollar donors like Alice Walton of Wal-Mart fame and the actor George Clooney and his super-rich Hollywood friends skirt legal limits on campaign contributions."
The prior allegations play into the hands of the Trump camp which has consistently portrayed Hillary Clinton as someone who doesn't care about fellow Americans but only herself and getting rich. The release of an email yesterday by WikiLeaks, together with others over the prior eight days, are making those charges harder to refute.
Robby Mook is Hillary Clinton's Campaign Manager. According to numerous leaked emails, over many months in 2014 Mook was consulting and coordinating elaborate professional services for Hillary Clinton's presidential campaign. Unfortunately, there were three major problems with this. Hillary Clinton had not told the Federal Election Commission that she was running a campaign; she wasn't reporting contributions and expenditures; and Robby Mook, during this time, was being paid by Common Good PAC at the rate of approximately $10,000 per month. Common Good PAC is a Virginia Political Action Committee set up by Virginia Governor Terry McAuliffe, a long time Clinton loyalist. (The PAC had already been the target of negative publicity for offering private dinners with Governor McAuliffe and his wife in exchange for $100,000 donations, according to the Richmond Times-Dispatch.)
The deterrent for Hillary Clinton to set up the normal exploratory campaign vehicle was that throughout 2014 and into the spring of 2015, both Hillary Clinton and Bill Clinton were making millions of dollars giving paid speeches to global banks, corporations and corporate trade associations according to her financial disclosure report. Each of the Clintons received personal fees of typically more than $200,000 per speech. In an email dated November 18, 2014, long-time adviser to Clinton, Huma Abedin, wrote to other members of the Clinton camp: "We ended up locking in ALL her remaining paid speaking offers a few weeks ago. She reviewed them all with you at meeting so you know everything." Those paid speeches for Clinton stretched into March of 2015, preventing her from declaring her candidacy without the need to dodge embarrassing questions on pay-to-play.
An October 7, 2014 speech that Hillary Clinton delivered on behalf of Deutsche Bank in exchange for a fee of $260,000 was particularly dicey. Just three months prior to this speech, the U.S. Senate's Permanent Subcommittee on Investigations had conducted a hearing into how Deutsche Bank had engaged in a scheme with hedge funds to cheat the Internal Revenue Service out of billions of dollars in taxes. Just six months later, a unit of Deutsche Bank entered a guilty plea with the U.S. Justice Department for wire fraud and engaging in a price-fixing conspiracy.
In the email released by WikiLeaks yesterday, Mook decided to run his predicament by two campaign finance legal experts at the law firm Utrecht, Kleinfeld, Fiori, Partners on December 21, 2014. The two lawyers Mook wrote to, Lyn Utrecht and Eric Kleinfeld, had provided legal counsel to Hillary Clinton's 2008 presidential campaign.
Mook titled his email: "Some questions – priviledged (sic)." Mook wrote:
"I am currently paid by a Virginia state political PAC which raises and spends unlimited and corporate. I will be re-locating to NYC the first week of January and will be assisting with preparation for a possible campaign. I want to make sure this won't constitute any sort of in kind from the PAC.
"2. Vendors—payment
"My understanding is that vendors can begin work now but bill a committee when/if HRC decides to form one. Is that correct? If vendors need a deposit, or some sort of payment up front, would that be from HRC personally? Would the campaign then pay the full amount and that deposit be refunded back to her?
"3. Vendors—contracts
"If vendors start working on projects now and require a contract, who is named in the contract? Who is singing (sic) it…"
Mook's prior leaked emails, however, show that campaign work started far earlier than December 2014. In an email dated March 22, 2014, Mook indicates that research has already apparently been ordered and is coming. Mook writes:
"The research coming should really help on this. I think her experience is part of the story since the research showed people see it as a strength but my guess is the key will be establishing her as a champion for the middle class and someone who can get the economy working for average people–and that will be shaped in contrast to her opponent. But the research will tell."
On September 13, 2014, using the official email address of Terry McAuliffe, Mook sent an email and a 5-page attachment mapping out an intricate plan for setting up a campaign web site. The planned called for the following:
"Three designers will work on three mock-ups each: a 'traditional/political' look, a 'modern/edgy' look, and a look of the designer's choosing.  We expect three rounds of revisions with the candidate participating in each one."
The same email also indicated that "narrative messaging" was currently being worked on. Mook wrote:
"the biography section will feature videos, photos, and other pieces of content designed to share the candidate's story. This will be based on the narrative messaging we're working on now."
By November 23, 2014, Mook emailed Hillary Clinton, her lawyer Cheryl Mills, and her soon to be campaign chair, John Podesta, three documents (see "attachments" tab) that outlined in great detail "early spending" needs, a "listening tour" and a "staffing timeline."
The "early spending" memorandum, dated November 19 2014 indicated the following:
"This research program costs $2.1M and represents all polling, focus groups, and analytics that your team would have ideally completed by the time you officially announce you are running (i.e. at the end of your exploratory committee). This body of research should allow you to produce a well developed theory-of-the-case as to how you win the primary and general elections, with an especially detailed path in Iowa and New Hampshire."
According to the Washington Post, as of December 11, 2014, Hillary Clinton had not set up an exploratory committee, the proper legal avenue for conducting all of these campaign activities. The Post reported:
"Clinton is also debating whether to establish an exploratory committee — a placeholder organization that would allow her to raise money to pay for consultants, office space and other operating expenses. But the move would trigger financial disclosures she can now avoid, and Clinton is getting a lot of advice against forming such a committee, two Democratic strategists said.
"An exploratory committee might also appear too coy for a previous candidate with obvious ambitions for a second try, according to several Democratic advisers, who, like others, spoke on the condition of anonymity because Clinton has not yet said she is running."
None of the above prevented Mook from emailing Hillary Clinton and her advisers on January 29, 2015 that her first campaign hires had been completed. Mook wrote:
"Success! Madame Secretary, Congratulations–you have a very enthusiastic Communications Director and Deputy Communications Director. They are both charged up and ready for action. Kristina is ready to start next week and I'm working with Jen on a transition plan. They were both really positive about working with each other and you. As soon as we have COO, your core team will be in place! More to come…"
Hillary Clinton did not officially declare her candidacy for President of the United States until April 12, 2015. It was done via this youtube video. One day later, Clinton filed the required notification with the Federal Election Commission. Two days after that, Reuters sniffed out that the campaign had been in the works a lot longer than Clinton was acknowledging. The Clinton team was saying that this finely tuned video had been produced by an in-house team while the people in the video said they "were contacted, filmed and interviewed by Hardpin Media, a production company made up of filmmakers who worked on President Barack Obama's 2012 re-election campaign." Hardpin also shows the video as part of its "portfolio" on its web site. According to the first quarterly financial document filed with the FEC by Hillary for America, it paid Hardpin Media $53,646.45 on May 6, 2015 and another $18,588.13 on May 13, 2015.
According to Federal Election law, once an exploratory candidate spends more than $5,000 for campaign purposes, that individual is considered a functioning candidate for office under the law and is required to promptly file a Statement of Candidacy and Statement of Organization and begin filing regular donor and expense reports.
The Clinton campaign is now promoting the idea that when the other side goes low, it goes high. What actually seems to have happened repeatedly in this campaign is that the Clinton team goes covert.