By Pam Martens and Russ Martens: June 24, 2016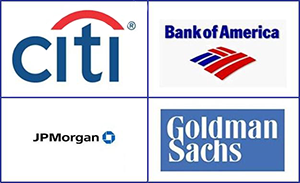 The anti-establishment trend has picked up its pace this morning, showing no signs of abating. Around 2:30 a.m. New York time, Wall Street traders were stunned by the news that U.K. voters had backed leaving the European Union by 51.9 percent versus a remain vote of 48.1 percent in the anxiously anticipated Brexit referendum held yesterday.
The outcome slammed markets – leaving many wondering if big banks and hedge funds were going to take heavy losses this morning for placing wrong way trades. Futures markets were doing little to reassure that this wasn't the case with futures on the Dow Jones Industrial Average showing a loss of over 553 points before the market opened and major Wall Street banks like Citigroup, Morgan Stanley, Bank of America, and JPMorgan Chase off by 6 to 7 percent in premarket trading.
In times of crisis, the still untamed mega Wall Street banks serve as proxies of all that remains wrong with global finance: lack of transparency; lack of a competent regulator; trillions of dollars in opaque derivatives; serial frauds against the investing public which have no end in sight, as the charges of outrageous abuses against its customers brought by the SEC against Merrill Lynch yesterday made clear.
The Wall Street banks are also tanking this morning because their stealthy outposts in the City of London (the equivalent of Wall Street in the UK) which has allowed a lot of pillaging of the globe beyond the gaze of U.S. regulators (think JPMorgan's London Whale fiasco where it used U.S. bank deposits to gamble in exotic derivatives and lose $6.2 billion along the way) may no longer provide the access it once did to the whole of Europe under European Passporting rules.
As the miscreant banks of global finance were soundly trounced, safe haven assets like gold and the ten-year U.S. Treasury were the beneficiaries. As the price of the 10-year Treasury soared, its yield dropped to 1.52 percent from more than 1.7 percent yesterday.
The British currency also took heavy losses, with the pound shedding as much as 10 percent after the vote tally was announced but later trimming its losses to single digits. At 9:19 a.m. New York time, the pound was trading at 1.37 to the U.S. dollar, a loss of 7.80 percent.
A sharp selloff in oil was also driving stock markets lower across Europe and Asia, with U.S. domestic crude, West Texas Intermediate, trading down 5 percent at $47.59 and Brent down over 5 percent at $48.31 minutes before stocks were set to open in New York at 9:30. At 9:27 a.m., Dow futures were showing a loss of 530 points.
As if all of this wasn't enough for markets to digest, U.K. Prime Minister David Cameron announced after the vote that he will be stepping down by October so that someone more aligned with the outcome of the referendum could lead the U.K. forward. Cameron had waged a battle for the U.K. to remain in the European Union and likely made a strategic mistake by campaigning on the issue alongside President Obama and JPMorgan's brash talking CEO, Jamie Dimon, who actually threatened his U.K. workers' jobs if they voted in favor of Brexit.
And for the final ounce of pain to the markets, U.S. durable goods orders for May were announced at 8:30 a.m., showing a decline of 2.2 percent.
Buckle up for a wild ride today.