By Pam Martens: January 8, 2014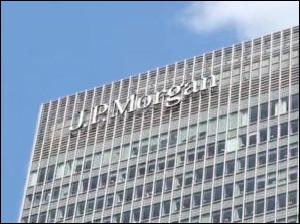 A sense of déjà vu overwhelmed me yesterday reading the U.S. Justice Department's settlement documents with JPMorgan in the Madoff case. I knew I had read most of this before. As it turns out, Irving Picard, the trustee for victims of the Madoff fraud had exquisitely presented all of this evidence in an amended complaint that he filed in court on June 24, 2011 – two and one-half years ago.
There is one huge difference between what Picard entered into the public court record and what the U.S. Attorney for the Southern District of New York, Preet Bharara, entered into the public record yesterday: Picard named names – at JPMorgan and at the feeder funds that blindly shoveled billions to Madoff. All of that explosive naming detail is missing in Bharara's neat settlement, suggesting that is how the U.S. Attorney's office wrung such an expensive settlement out of JPMorgan in exchange for no prosecutions of individuals and a deferred prosecution agreement against JPMorgan itself.
JPMorgan will pay $1.7 billion to the U.S. Justice Department to compensate victims of the fraud. It will pay another $543 million to Picard's trustee fund to compensate victims; and it will pay a $350 million fine to the regulator of national banks, the Office of the Comptroller of the Currency.
We've been researching and writing on the Madoff fraud since the news first broke in December 2008. Below we present some of the critical pieces of the puzzle explaining how Madoff perpetrated the scheme for so long with the willful blindness of so many.
~~~
Why Did the Justice Department Kill the Madoff Subpoena Against JPMorgan?
By Pam Martens: December 31, 2013 — Since December 16, major business media have failed to dig deeper into a potentially blockbuster story involving the Justice Department's refusal to honor a Wall Street regulator's request for a subpoena against JPMorgan Chase to obtain Madoff related documents the firm was refusing to turn over. JPMorgan Chase was Madoff's banker for the last 22 years of his fraud. The Trustee in charge of recovering funds for Madoff's victims, … Continue reading  
JPMorgan May Face Criminal Charges for Blowing the Whistle on Madoff – To the Wrong Country
By Pam Martens: December 12, 2013 — This month marks the fifth anniversary of Bernard Madoff shocking the world by confessing to running a Ponzi scheme that was eventually tallied up to represent $17 billion in actual losses and $65 billion in paper losses – fictitious amounts shown on customer statements. It may also mark another ignoble first – the first time a Wall Street bank is criminally charged by the U.S. Department of Justice. The …Continue reading  
Wall Street's Biggest Banks Had a Trading Scheme With Madoff
By Pam Martens: October 30, 2013 — The trial of five former employees of Bernard Madoff's Ponzi operation is currently playing out in Manhattan as the U.S. Justice Department weighs bringing charges against JPMorgan Chase, where Madoff had his primary business banking account, for ignoring flashing red lights that a fraud was taking place. According to lawsuits filed by Irving Picard, the Trustee handling the Madoff recovery fund, JPMorgan knew that Madoff was supposed to be … Continue reading 
JPMorgan Is In a Boatload of Trouble Over Madoff: Here's Why
By Pam Martens: October 29, 2013 — There are five words that neatly sum up JPMorgan Chase's dilemma in its efforts to avoid a deferred prosecution agreement or a more serious outcome over its handling of Bernard Madoff's business account for more than two decades: the "Know Your Customer Rule" and recidivism. The Know Your Customer Rule is ingrained in every banker and broker on Wall Street by the legions of compliance officers who send out … Continue reading  
Criminal Investigation of Madoff and JPMorgan Shines Harsh Light on NYU
By Pam Martens: October 28, 2013 — Last week the business press reported that the U.S. Department of Justice may assert charges against JPMorgan Chase for its role in perpetuating the Bernard Madoff Ponzi scheme which defrauded investors out of $17 billion in actual funds and $64 billion in paper losses based on the falsified values shown on client statements. Unnamed sources said the Justice Department may agree to a deferred prosecution agreement in exchange for … Continue reading  
Department of Justice Has Six Ongoing Investigations of JPMorgan
By Pam Martens: August 8, 2013 —  If a major Wall Street firm is being investigated by the Securities and Exchange Commission (SEC), that's one thing. The SEC has no criminal powers to prosecute. And when it comes to Wall Street mega banks, there is a long tradition of fines and slaps on the wrist rather than prosecutions.  But when there is an open investigation by the Department of Justice, which does possess the power to …Continue reading  
Madoff and the SEC's Revolving Door
By Pam Martens: August 31, 2009 — The long-awaited investigative report by the Securities and Exchange Commission's Inspector General on how the SEC bungled multiple investigations of Bernard Madoff is set for release this week. Unfortunately, according to media reports, the long suffering investing public will not receive the report until the SEC itself has had a chance to review it. The team that produced this report on one of the most long-running and convoluted frauds … Continue reading  
Madoff: "It's All Just One Big Lie"
By Pam Martens: January 06, 2009 — Airing live on C-SPAN, the first of the House Financial Services Committee hearings on the Bernard Madoff fraud on Monday, January 5, 2009 felt like the Congressional equivalent of a Ponzi scheme. Big spans of empty Congressional seats commanded the camera's lens at this historic hearing while empty-headed questions filled a torturous five hours with nothing to show for it at the end. The hearing confirmed one of my … Continue reading