By Pam Martens: September 6, 2012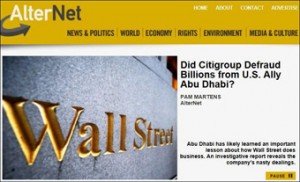 To help answer the question posed in our headline, we have a two-part investigation appearing today and tomorrow over at the gutsy web site, AlterNet.  If you participate in a public pension or own index funds in your 401(K) plan, chances are you are a long-term shareholder of Citigroup common stock.  That means you've lost 90 percent in the value of those shares over the past five years while former Citigroup CEO Sandy Weill got an inside deal that reaped him a 29 percent gain in less than two years.  But don't feel too bad; even a powerful ally of the U.S. can't get justice when it comes to Wall Street. 
This story should have been front and center in the excellent book by Neil Barofsky, Bailout: An Inside Account Of How Washington Abandoned Main Street While Bailing Out Wall Street.  Barofsky was the crusading former Special Inspector General of the Troubled Asset Relief Program (TARP).  If he didn't know about it, then we need to start over in investigating the crimes and abuses of the bailout.  
Tomorrow at AlterNet, we go where few in mainstream media will tread: Wall Street law firms. We show a textbook example of how these law firms built a rigged private justice system for trying claims that are just too repugnant to the American conscience to ever see the light of day before a real jury in a real U.S. courtroom. 
And speaking of mainstream media, there is an outstanding  article at Bloomberg News that, unfortunately, raises more questions than it answers.  The Bloomberg reporters, Robert Schmidt and Jesse Hamilton, obtained emails through a Freedom of Information Act (FOIA) request to the SEC that put a human face on crony capitalism in all its gory vicissitudes. 
The emails whiz back and forth between Annette Nazareth, a former SEC Commissioner who left to represent Wall Street clients at her old law firm, Davis Polk & Wardwell LLP, and Mary Schapiro, SEC Chair as well as the SEC's top lawyer, David Becker.  Becker has since left the SEC to return to his former Wall Street law firm, Cleary Gottlieb Steen & Hamilton LLP. That was Becker's second round trip through the SEC's revolving door.  Becker previously served as the SEC's General Counsel from January 2000 to May 2002 after joining the SEC staff as Deputy General Counsel in 1998. 
In one particularly disturbing email exchange, Becker preps Nazareth to focus on proposed provisions in the Dodd-Frank financial reform legislation "about the inanity of the Investor Advocate."  The legislation created an Investor Advocate position at the SEC dedicated to protecting investors.  The email shows the top lawyer of the SEC calling such a position inane, or silly. 
Nazareth responds: "Give me time!" and says she has also asked Wall Street's trade and lobby group, SIFMA, "to trash it." The position stayed in the legislation but the SEC has never filled the position, nor has Congress forced it to. 
The untold story within this story, however, is why we are just now reading these emails in September 2012.  According to the article, the FOIA request was filed in May 2011.  Did the SEC stonewall Bloomberg for more than a year?  Did the Davis Polk law firm intervene to hold up the story?  Did Bloomberg's own lawyers hold up the story?  An email request to Bloomberg News for clarification went unanswered.  We will pursue that issue further.