By Pam Martens: September 8, 2012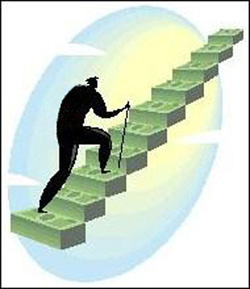 The books coming out about Wall Street today reflect an incremental change in attitude: in the late 80s, it was a pack of phone throwing liars; by the 90s, they were thieves; today, devils. 
Liar's Poker by Michael Lewis, Den of Thieves by James B. Stewart, All the Devils Are Here by Bethany McLean and Joe Nocera, show an evolution in sophistication of crime on Wall Street. While the public may not be able to recite the precise underpinnings of each securitized, high frequentized, internalized crime, it is now accepted wisdom that pigs, liars, thieves and devils inhabit much of Wall Street. 
Not surprisingly, this perception has led to an exodus of people willing to turn over their hard-earned life savings to the gluttonous crowd.  An old saying on Wall Street was "where are the customers' yachts."  Today, it's "where are the customers." 
That makes it all the more remarkable that Wall Street is still able to attract highly educated summer interns.  We got a little window of light into the mental processes of the summer intern in a piece this past week by Kevin Roose at New York Magazine.   Here is what was on this young man's mind: 
"For me, it's weird. Like, having a black car take me home every night, having a $25 meal delivered to my desk. That's over the top. But eventually, you start to expect more. You're definitely seduced. You think, If I did this for two years, went to private equity, did the stair-step path that everyone does, I'd never have to think about money again." 
But there is always the chance that the young graduate will have buyers' remorse by age 33. 
"Today is my last day at Goldman Sachs. After almost 12 years at the firm — first as a summer intern while at Stanford, then in New York for 10 years, and now in London — I believe I have worked here long enough to understand the trajectory of its culture, its people and its identity. And I can honestly say that the environment now is as toxic and destructive as I have ever seen it." – Quote from Greg Smith, submitting his resignation letter to Goldman Sachs via the OpEd page of the New York Times, March 14, 2012. 
Smith was not the first to be disillusioned by the outward veneer that Wall Street's legions of public relations firms attempt to peddle to the public versus the reality of what transpires within the confines of the good ole boys' club.  In his 1997 bestseller, Frank Partnoy delivered a strong hint that Wall Street was on an unsustainable path of corruption: 
"…my ingenious bosses became feral multimillionaires: half geek, half wolf. When they weren't performing complex computer calculations, they were screaming about how they were going to 'rip someone's face off' or 'blow someone up.' Outside of work, they honed their killer instincts at private skeet-shooting clubs, on safaris and dove hunts in Africa and South America, and at the most important and appropriately named competitive event at Morgan Stanley: the Fixed Income Annual Sporting Clays Outing, F.I.A.S.C.O. for short." —  F.I.A.S.C.O. – Blood in the Water on Wall Street 
Partnoy is now a law professor at the University of San Diego, author, and has regularly testified before Congress on the critical need for reforming Wall Street. 
Another individual who had so much to offer the financial markets of the United States but could not make the culture leap was Nomi Prins, now an author and columnist.  In her 2004 book, Other People's Money: The Corporate Mugging of America, Prins writes: 
"…when people who didn't know me very well asked me why I left the banking industry after a fifteen-year climb up the corporate ladder, I answered, 'Goldman Sachs.' 
"For it was not until I reached the inner sanctum of this autocratic and hypocritical organization – one too conceited to have its name or logo visible from the sidewalk of its 85 Broad Street headquarters that I realized I had to get out…The fact that my decision coincided with corporate malfeasance of epic proportions made me realize that it was far more important to use my knowledge to be part of the solution than to continue being part of the problem." 
In its early days, Wall Street sought out former maître d's from fine New York restaurants as hires to peddle stocks.  The strategy was to seek out centers of influence.  Translation: if you know a wealthy person, they know other wealthy people. 
In the New York Magazine piece, we learn from the young intern that 65 to 70 percent of all the summer interns at Barclays received job offers.  Now that's a very odd thing to be happening when major layoffs are occurring all over Wall Street.  One could be forgiven for suspecting that it might be more than the brainpower of the young intern that Wall Street is seeking: wealthy new connections comes to mind.