By Pam Martens: July 13, 2012
Current U.S. Treasury Secretary, Timothy Geithner, was President of the Federal Reserve Bank of New York in 2008.  He has now conceded that he was aware of problems with the setting of Libor interest rates as early as 2008 and sent an email to the Bank of England with recommendations for addressing the problems.  Why the rigging was allowed to continue remains an open question. 
According to the chart below, released by Barclays, it made a total of 12 complaints to the Federal Reserve beginning as early as August 28, 2007, the date it contacted the Fed twice in one day.  Its contacts with the Fed continued through October 27, 2008. 
The Federal Reserve Bank of New York is set to release documents this morning, presumably showing what it knew and when, following a written request by Randy Neugebauer, a House Republican from Texas.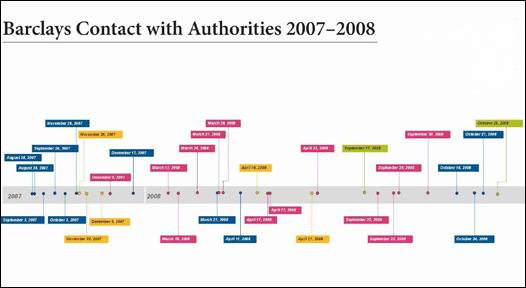 Blue Boxes: Contacts With the Federal Reserve
Yellow: British Bankers Association
Green: Bank of England
Pink: Financial Services Authority (FSA)