By Pam Martens: June 27, 2012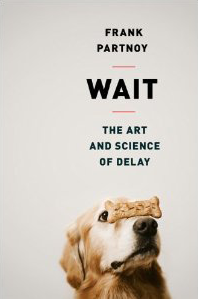 Frank Partnoy is just out with a new book: Wait: The Art and Science of Delay. Partnoy, now a professor of law and finance at the University of San Diego, is known for speaking the hard hitting truths about Wall Street – in testimony before Congress and in his books. 
Partnoy has an insider's feel for his topics – he worked in the 90s as a derivatives structurer at Morgan Stanley and CS First Boston and wrote the Wall Street classic, F.I.A.S.C.O.: Blood in the Water on Wall Street.  Another great read from Partnoy is Infectious Greed: How Deceit and Risk Corrupted the Financial Markets.
His newest book, Wait, is not just about Wall Street, although from the review below it does appear he takes on Jim Cramer's Mad Money television program.  I'll be doing an in-depth review in the near future (I'm taking a cue from the book and waiting until I can do a proper job), but, for now, here's what others are saying.
"In his marvelous new book, WAIT, Frank Partnoy takes a focused and practiced aim at Jim Cramer's Mad Money … if you watch the show and act on its recommendations, you'll likely lose almost one-third of your money in less than two months. In other words, while the frantic pace of the show may compel you to rush into action, the smart money is on procrastination …. Unlike many writers surveying the business scene, Partnoy knows firsthand what he's talking about …. Delayed gratification is great for the waistline; it could be great for the bottom line too. The book couldn't come at a better moment."  – CBS News MoneyWatch (Margaret Heffernan)
"Giving a thumbs-up to procrastination, financial expert Partnoy (Infectious Greed) notes that, while we 'are hard wired to react quickly,'  everyday experiences can be altered and improved by delaying decisions. He backs this claim with solid research across a variety of fields, from behavioral economics and neuroscience to psychology, animal behavior, finance, and law. Pacing is a key element in everything from race-car driving to comedy: 'When a master comedian is on, he or she creates a new and warped world of time.  The greatest comedians are masters of delay.'  Even such quotidian questions as 'When is the ideal moment to apologize?'  are ruled by subtleties of time. Athletes know the value of delaying, as do CEOs and military strategists. Irene LaCota, head of the It's Just Lunch dating network, refuses to include photos in profiles to keep her clients from making snap decisions. To illustrate the 'slow hunch,' a full chapter details the two 3M scientists who patiently waited and persisted for 12 years while management decided whether Post-it Notes would be a good product. Entertaining and provocative, Partnoy probes and illuminates the complexities of human decision making with surprising insights and recommendations." – Publishers Weekly